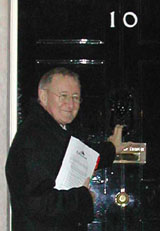 UK Celebrity TV Doctor, Dr Chris Steele MBE from ITV "This Morning" talks about LDN – listen here.

Dr Chris is seen here handing in the LDN petition to Number 10 Downing Street on 1st Dec 2009. A total of 13,028 people signed this petition resulting in it being the 8th most popular petition on the 10 Downing Street website at the time.

The demand was for the Government to fund trials for LDN for the diseases that it treats, if that is what is required to make it more readily available on the NHS as a front line, 'first do no harm' treatment option.


Response from 10 Downing Street:- All drugs need to be thoroughly tested to make sure they are safe enough to be made available to patients. Most research of this kind is done by the pharmaceutical industry. The Government is aware that occasionally there will be few or no commercial incentives for companies to fund clinical trials.

Please sign the EU petition. The EU petition takes this issue to the point about human rights. We feel that a person who requests LDN as a safe option should be able to get it easily. It is often the sick themselves who know what they need. But we also request that they make the research a reality, not just a notion assuming someone will do it eventually.